---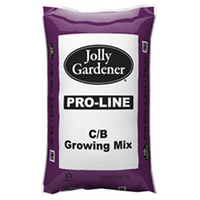 Jolly Gardener ProLine Growing Mix, 2.8 cf
Jolly Gardener quality composted soils and soil amendments provide a complete, balanced growing media for your garden beds, containers, trees, shrubs and lawn.

Premium Garden Soil with Plant Food
Premium Potting Mixes with Plant Food
Potting Soil
Top Soil
Peat Humus
Organic Humus
Composted Cow Manure
Dehydrated Cow Manure
Best of all, Jolly Gardener soils and soil amendments are ready to use right from the bag! Start jolly gardening today.